List of Homeschool Providers in the Philippines
Homeschooling in the Philippines is definitely growing! If you are exploring homeschooling, we now have a number of providers you can check to help with you with you journey. We have decided to compile the ones we know and we do hope this helps parents, who sent us inquiries, about the different providers.
A homeschool provider helps you get accreditation for your children's homeschooling. Your child's accomplishments are officially credited and they released transcripts to their students, in compliance with Department of Education (DepEd) accreditation requirements. These records are needed when your child enrolls in a regular school or college.
Some of the providers are members and affiliates of Homeschool Association of the Philippine Islands (HAPI)* and some are recommended by fellow homeschoolers.
Here's a list of DepEd Accredited Homeschool Providers in the Philippines: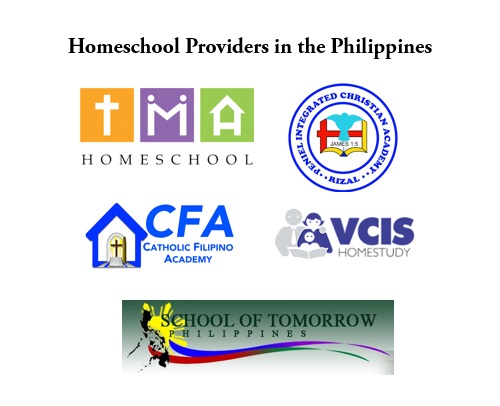 Homeschool Global / The Master's Academy (TMA) Homeschool*
This is a Christian Homeschool, accredited in the Philippines (via the Philippine Department of Education), and in the U.S. (via a partnership with Walkersville Christian Family Schools). It is one of the pilot Home Education Programs (HEP) of the Philippine Department of Education. TMA is now called Homeschool Global (2016).
Website:  http://tmahomeschool.org/
Facebook:
Contact Number: 234-0432
E-mail: info@tmahomeschool.org
Address: 2nd Floor Fun Ranch, Frontera Verde, Ortigas Avenue, Barangay Ugong, Pasig City
Catholic Filipino Academy (CFA)*
Offers Catholic Homeschooling program in the Philippines founded by renowned speaker, preacher, and author, Bo Sanchez. and a team of homeschooling moms.
Website: http://www.catholicfilipinoacademy.com
Contact Number: 725-9999
E-mail: cfainquiry@gmail.com
Address: Obispado de Cubao, 41 Lantana Street, Cubao, Metro Manila, Quezon City
Victory Christian International School's HomeStudy Program
VCIS HomeStudy Program offers students a unique form of instruction that is anchored on biblical principles, fosters a love for learning through deep learning, and involves both the parents and the school.
Website: http://vcishomestudy.edu.ph/
Contact Number:  775-5705, 584-6092,  0917 813 2862
Address: 3F Rodil Building 326 Capt Henry Javier Drive, Oranbo, Pasig City
School of Tomorrow Philippines
School of Tomorrow Philippines is the official provider of the ACE (Accelerated Christian Education)  Curriculum in the country. This is Christian Homeschool using PACES of School of Tomorrow, USA
Website: http://sotphil.net/
Facebook: https://www.facebook.com/PCSTinc/
Contact Number: 822-4433
Address: SOT Blvd., (former MJS Ave.) Levitown Executive Village, Brgy. Don Bosco, Parañaque City.
Email: information@sotphil.net
Peniel Integrated Christian Academy, Inc. Home Education Program *
Peniel Christian Academy offers Homeschool program that supports an open curriculum.
Facebook: https://www.facebook.com/peniel.christianacademy1
Contact Number: 682-7941
E-mail: penielchristian97@yahoo.com
Kids World Integrated School, Inc. Home Education *
Kids World Integrated School Inc. is an equal opportunity institution. They offer Home Education, Home Study, SPED, and E-learning. They also have special courses like Integrated Philippine History through Culture and Arts and Interactive Filipino with Baybayin.
Contact: (02)726-6563, (02)975-4676
Address:  Johnson Street, Greenhills North, San Juan
Homeschool of Asia Pacific (HAP)
Offers stress-free, student-paced, simple-structured US-based or Deped-accredited homeschool programs for pre-schoolers, primary school to highschool. Their programs are open to students and families around the world.
Webiste: http://homeschoolofasiapacific.com/
Address: Level 5 Richville Tower, Address: Madrigal Business Park, Ayala Alabang, Muntinlupa, Philippines
International British Academy Home School Programme
International British Academy offered the first fully accredited Home School Programme (Elementary level) in the Cavite area in school year 2012-2013. This programme is intended for those parents who wish to teach their children at home and have the additional guidance and support of a fully accredited school assisting them.
Website: http://iba.edu.ph/
Contact Number: 046 471-5922
Email: info@iba.edu.ph
Address: Gen. Aguinaldo Hi-way, Anabu ll-D, Imus, Cavite
Bright Young Minds
In BYM, the main goal is to enable each child to discover and maximize their God given potentials. They provide services and implementing programs that will develop the child's skills. The curriculum are either DepEd accredited or U.S. accredited.
Contact Number: 774-37-47
Address: Unit 304, Venture bldg. Prime Cor. Market St. Madrigal Business Park, Alabang, Muntinlupa City
Angelicum College Home Study Program
Angelicum HSP allows learners to study at home at their own time and pace while tests for validation of their lessons or modules are to be given and taken in the actual presence of authorized monitors.
Website: http://www.angelicum.edu.ph/
Email: hsp@angelicum.edu.ph
Address:  112 M.J. Cuenco St. Sta. Mesa Heights Quezon City, Philippines
International Christian Academy Elementary Home Schooling
The First Philippine Christian School accredited by ACSI (Association of Christian Schools International), Colorado, U.S.A.. ICA seeks to serve as the third strand after the child's own family and church in ensuring overall development – physically, emotionally, socially, spiritually and academically.
Website: http://www.ica.edu.ph/
Contact Number :820-4521, 820-4524
Email:  ica_manila@yahoo.com
Address: 4505 Extra Extension Street Fourth Estate Subdivision, Sucat, Paranaque, Philippines
Kairos Homeschool Academy
A Christian, Chinese homeschooling institution that offers complete and curated homeschool curriculum, administrative assistance, developed tests and projects, DepEd recognition, and parent training support for families that are new to homeschooling. They also provide opportunities through our trilingual library, athletic facilities, and different church activities.
Website: www.kairoshomeschoolacademy.com
Contact Number : (02) 448 2504
Email: kairoshomeschoolacademy@gmail.com
Address: Room 201, United Evangelical Church of Malabon 45 Gov. Pascual Ave., Potrero, Malabon City 1475 (near Monumento)
Are you connected to a homeschooling provider, or do you know one, that is not on the list? Please let me know by leaving a comment so I can include them and help give more options for families looking for providers.
Related Post:
Homeschool Provider Fees and Services
Advantages of Having a Homeschool Provider