Advantages of Having a Homeschool Provider
Last year, we started our official first year of homeschooling. We enrolled with a homeschool provider TMA (The Master's Academy) to help us kick start our journey. It is now called Homeschool Global. We love being connected with a homeschool provider that is DepEd accredited as they have helped us to get things in a more structured way.
Based on our experience here are the advantages of having a homeschool provider:
Accountability
Being connected to a homeschool program means there's an organized way to do things. The provider have advisers to guide us parents as we homeschool. There's the accountability for us, parents and the children, to follow and meet specific dates and requirements.
Assessment
As we are following schedules, we have the requirements and assessments. The portfolio review is done quarterly for us to keep track of our journey. It is beneficial to our child for him to recall on what he learned or what projects he did. During the assessment, they also work on their communication skills.
The portfolio review also gives us a different perspective. It's another set of eyes, evaluating the strengths of our child and we receive recommendations on what else needs to be worked on.
Accreditation
This is one way to getting DepEd accreditation for our homeschool activities. Unlike being an independent homeschooler, the provider processes all the needed requirements and issue the transcript of records. These documents are needed when the kids will be eventually transitioning to traditional schools. As long as you comply with the timelines and requirements of the provider there should be no problem in getting accreditation.
The provider also celebrate milestones like moving up.  The graduation ceremony is unique as children receive a character award from their parents aside from the certificate of completion.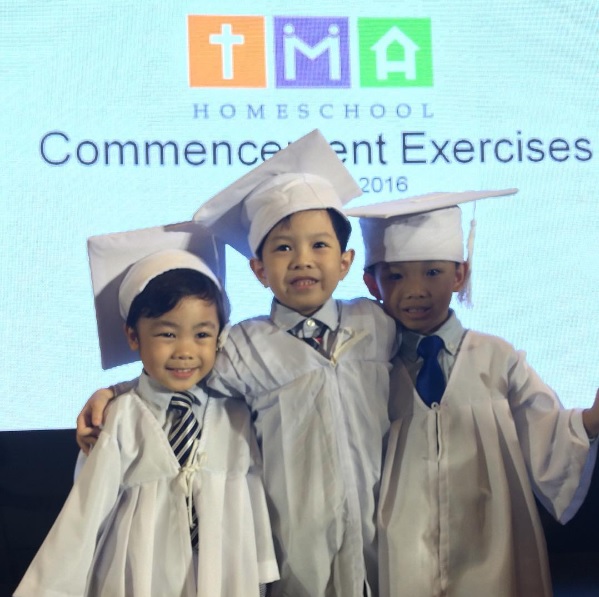 Moving up with fellow homeschool preschoolers, April 22, 2016
Support
Aside from assigned advisers, which can be contacted every so often for inquiries and advice, the provider also arrange for play groups and extra curricular activities for the kids. While the kids have their own sessions, parents (of preschoolers) are also gathered together to learn from each other.
There are cooperatives where families can meet together in smaller groups on a more regular basis. One thing I'm looking forward to this year is the improvements for cooperatives to have better co-op placements such that enrolled families residing in the same areas will be under the same group.
Being enrolled in an accredited provider worked well for us, even if we have dates to meet and requirements to submit. This is because at TMA, we can still freely customize the lessons. We have enough flexibility on what materials to use and what activities to integrate with the lessons for our son.
Being connected with a homeschool provider makes the journey more easier. I do not have to stress with things that they can cover for me but instead focus on things that are more important.
Read more related post:
List of Homeschool Providers in the Philippines
A Guide to Common Homeschooling Terms