Our Homeschool Grade 1 Science Curriculum
Here is our Homeschool Grade 1 Science Curriculum. Science is vast topic. There is just so many things to learn and talk about when it comes to science. It can be overwhelming to teach especially if there are plenty of questions from the child. Our science curriculum was initially based from our Grade 1 textbook. But we added a few more topics and resources based on Gab's interest.  We added more topics on some areas whenever Gab wanted to learn more.
Our homeschool science curriculum is not an official science curriculum of DepEd or other academic institutions. It was customized for our Grade 1 homeschooling. But most of the topics covered are those required by DepEd and we added a few more depending on Gab's interest and capability.
Below is the outline of our Grade 1 Science Curriculum for Homeschoolers. We did not follow the sequence. We sometimes skipped from one topic to the next especially when there is chance to learn science when we travel. For example, we talked about animals before visiting his lolo's farm in Negros, and we talked about plants before Gab went to Singapore and visited the Botanical Gardens.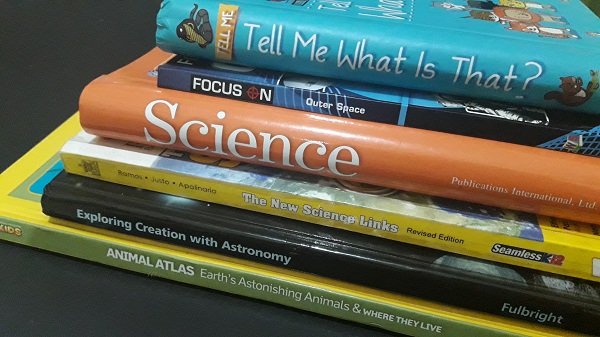 TOPICS
SKILLS TO LEARN
TIPS
What is Science?

Definition
Branches of Science
Some Great Scientists
Science Process Skills
Laboratory Tools and Safety

Try to include the child's interest. If the child loves animals talk more about biology and its related fields. Gab loves cars and planets so we talked more about astronomy and mentioned scientists and inventors of the automobile.

We don't have laboratory tools at home so we skipped this portion. But we did show him some of the tools available at a local drugstore like test tubes, beakers, microscopes and flasks.

The Human Body

Three main body parts
The Five Senses
Taking care of the body
Body changes as you grow
What the body needs
Go, Grow, Glow Foods

Learn the body parts in Filipino as well.

Check out our worksheets below:

Animals

Common and special body parts of animals
Animals and their habitat
Animals and their food
Life cycle of frog, butterfly, mosquito
Needs of animals
Importance of animals
Taking care of animals

Visit a zoo or an oceanarium. It's really worth it. In Manila, you can visit the Manila Zoo, the Avilon Zoo or the Manila Ocean Park. Be sure to take a lot of pictures.

Youtube is our friend. There are plenty of educational videos about animals that kids will surely love. Some can be less than 10 minutes while others can be a full episode of 30 minutes or more. We suggest watching the 10 minute clips for Grade 1 kids for now.

Watch live streaming videos of animals in a zoo. Here's link to watch real polar bears at San Diego Zoo. Sometimes they are hiding though.

Plants

Parts of a Plant
Parts of a Flower
Plant parts and their functions
Where plants grow
Plants and their uses
Plants and their needs

Grow a plant with your kids. We got a grow kit from MNL Grow Kit. It is a very educational experience for kids that will cover what they learned about plants.

Visit a garden or just walk around to explore the different plants. Kids will also love picking the leaves and flowers to compare them.

The market will be a good place to explore seeds and leaves.

Check out our worksheet below:

Matter and Energy

Definition of matter
Types of matter
Definition of energy
Light, Heat and Sound

Let kids perform some experiments. There are plenty of easy experiments to introduce matter and energy. It will really make learning more interesting.

Check some of our Science Experiments for Kids.

Force and Motion

Definition for force and motion
Types of Motion

This is best learned by experience like driving a toy car, flying a kite, or racing with a paper boat.

Gab loves bridges and we used bridges to talk about the forces affecting a bridge. If you also want to study bridges we recommend this cool book about bridges.

The Earth

Describing the Earth
Different landforms
Main bodies of water
Things found on Earth
Care and Concern for Mother Earth

Buy a globe. It's not that expensive and it teaches about geography as well.

Travel. It doesn't have to be expensive. Baguio, for example, has plenty of opportunities to talk about Earth and other science topics.

The Weather

Weather conditions
Understanding a weather report
Types of clouds
The water cycle

Download a weather app on your mobile devices like the Accuweather. Teach the child how to understand the report from the app.

For clouds, here is a nice presentation about the types of clouds I showed to Gab.

Here is a very detailed diagram and explanation for the Water Cycle by USGS. A simpler one is available at the side links. Or here's another link about the Water Cycle by NASA.

The Sun, Moon and Stars

Observing the Sky
Solar Eclipse and Lunar Eclipse
Phases of the moon
Planets
Stars and Constellations

Download an app to navigate the night sky. Here are some apps for stargazing.

There are cheap telescopes from toy stores but don't be fooled with the packaging. The most you can see is a blurred surface of the moon. You can barely see any planet with these telescopes. Personally, I don't think these fancy telescopes are worth it.

Attend a free telescope viewing by The Philippine Astronomical Society or by the Astronomical League Of The Philippines, Inc..

Read more about stargazing
RELATED POSTS