Reasons Why You Should Attend the Philippine Homeschool Conference
Philippine Homeschool Conference 2017 is set on October 7, 2017. The PHC is the annual homeschool conference in the country and it just keeps getting bigger and better every year.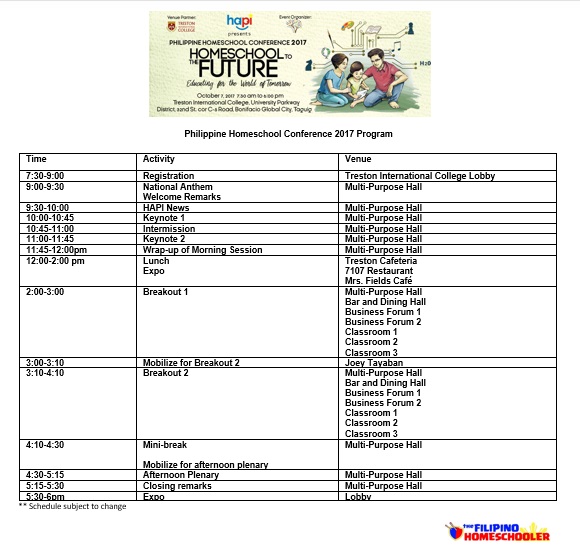 But what will you get when you come to this event?  Here's the top 3 reasons why you should attend the Philippine Homeschool Conference.
1. Learning from Homeschool Experts
The whole day event is packed with every informative talks and breakout sessions. Experts I'm referring to here are professional speakers, advocates and homeschool veterans.
More than the tips and tricks, the ins and outs, you will surely feel motivated to keep on homeschooling!
2. Exploring New Teaching Materials 
The conference includes an expo where you can check a wide array of educational materials such as books, references, manipulative or even art materials. Most of the time, exhibitors have their items marked down.
Some, if not all, homeschool providers are also there so it's a perfect time for you to talk to them personally for inquiries that you may have.
3. Meeting Fellow Homeschooling Families
This is an avenue for fellow homeschoolers to meet up. It's always nice to put a face behind the names of the persons we interact with online from different homeschool support groups. It's always good to hear ideas, insights, suggestions, on topics that might also work for us, from other parents based on their first hand experiences.  There's just more things to talk about when we are face to face! Being around like minded families makes our homeschool journey a little easier.
See you there?
Read more about the schedule and topics here: Philippine Homeschool Conference 2017 Homeschool To The Future: Educating for the World of Tomorrow.