Machi Koro Bright Lights, Big City Card Game Review
Machi Koro Bright Lights, Big City Card Game is an educational card game for older kids. Kids get to practice their skills in handling money, doing simple arithmetic, following game rules and a little entrepreneurship. However, the Machi Koro Bright Lights, Big City can take too long to finish and can bore some kids.
I was looking for a nice board or card game to play with Gab and the guy at the Gaming Library in Glorietta suggested the Machi Koro Bright Lights, Big City. Machi Koro Bright Lights, Big City is a new version of the original Machi Koro Game. This time, there is a new gameplay and some additional cards.
The game is similar to Monopoly where you build structures that will let you earn income. The main objective is to construct all 6 landmarks. But unlike Monopoly, Machi Koro uses cards instead of a board.
To see how the original Machi Koro game is played, you can watch this video from Watch it Played.
What I like about Machi Koro is the simplicity of the game. Gab was able to understand how it is being played. He may lack the strategy to win the game but he understands how it is being played. So anyone in the family will be able to play it.
Machi Koro may have not intended it to be educational but I think it is.
First, it involves money. So Gab is learning how money works. There is buying, paying, building, investing, taxation and more. It is very much how money works in the real world.
Second, it requires simple arithmetic. In earning income, you need to add, subtract, multiply and divide. During the game, we would ask Gab to compute how much we need to get from the bank or how much we need to pay another player. That is a good practice for his math skills.
Third, it practices reading and comprehension skills. Gab has to read what each card does during his turn. He also needs to follow instructions and understand how each card works. We even ask him to explain to new players the rules of the game.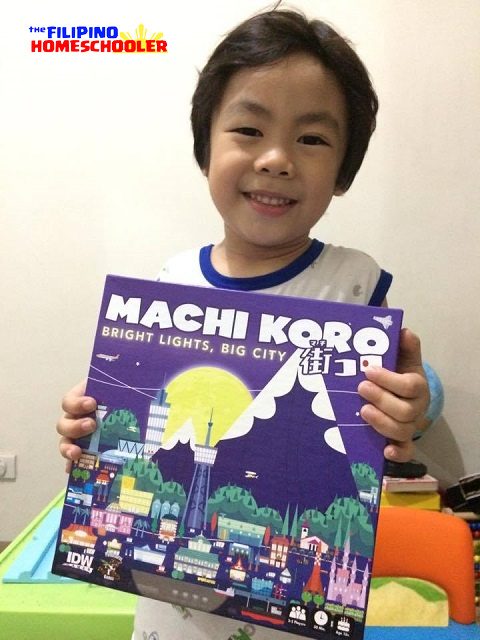 However, playing Machi Koro can take more than an hour to be finished. While the box says, it can be finished in as little as 30 minutes, this has not been the case. We usually finish in about 90 minutes. If the family has plenty of time, this is OK. But it can be boring at times especially when you are running out of money to build. Thus, we sometimes have to change the rules to make the gameplay faster.
Lastly, you need a big space when playing Machi Koro. You would end up with several cards on your hand as you play. You would need a long table to place all your cards especially when there are more players joining.
Overall, Machi Koro Bright Lights, Big City is a fun game for the whole family. Anyone can play it. Some cards can be confusing but the manual provides clear instructions on how each card works in the game.
Best of all, Gab is learning a lot of things while playing the game. I find the use of money in the game to be an excellent learning tool. It closely simulates how money is used in the real world. It even has the tax office which most players hate.
The Gaming Library is located at the 3rd Floor in Greenbelt 5. It has branches in San Juan, Quezon City and Mandaluyong.
Or you can visit Amazon.com for more Machi Koro games.