Filipino Body Parts Clip Cards with Minions
We are starting to teach Gab some Filipino words. We have not exposed him that much with the Filipino language.  He is good with his English from his books, and he starts to communicate in Hiligaynon since that is how Quennie and I communicate at home.
I bought some Filipino books for early readers and now I am making a few Filipino Flashcards and Clip Cards to increase Gab's vocabulary of Filipino words.
This Filipino Body Parts Clip Cards is like a flashcard with a twist. Kids will point to the answer by placing a clothes pin on the correct Filipino word for the body part indicated.  Aside from learning new words, the child can practice some fine motor skills when handling the clothes pin.  If you don't have clothes pin, you can use paper clips, stones, or just markers.  Be creative. 😀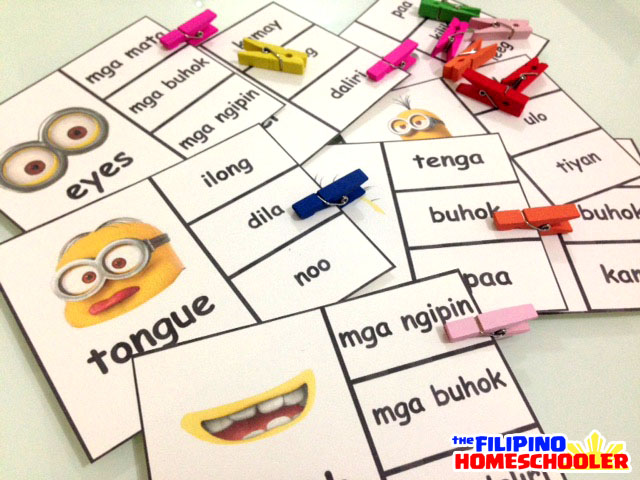 I used Gab's favorite characters for the illustration. He loves Minions and we use it a lot to get his attention to new activities.  Unfortunately, the Minions doesn't have complete body parts. They don't have a nose, an ear, a neck and many others.
But this is a good start. I should make a new set of flash cards with more body parts.  But I'm not using Minions for these flash cards.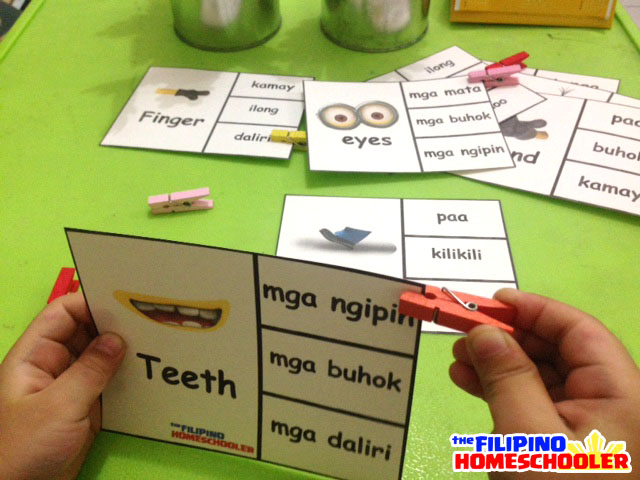 Feel free to print and share these Flash Cards or Clip Cards on Filipino Body Parts.
How do you like the clip cards?  Do you have suggestions for the next one?  Leave a comment below.
For more clip cards, visit our Clip Cards Page to download.