Philippine Homeschool Conference 2015: Ready for the World!
In 2013, I attended a Homeschool Conference. That provided us more information and has helped us a lot in our decision to homeschool our son Gab. The conference is a good refresher for those who are already into homeschooling and will also empower and provide more answers to common questions for those who are considering to begin their homeschool journey.
This 2015, on October 17th, we are expecting another gathering: Philippine Homeschool Conference 2015: Ready for the World!
Two well-respected homeschool advocates and speakers from the United States will be at the event as keynote speakers: Michael Donnelly, Director for Global Outreach of the Homeschool Legal Defense Association (HSLDA) and Secretary of Global Home Education Conference (GHEC) 2016, and Rachael Carman, mother of seven and best-selling author and publisher of popular homeschool curriculum Apologia. Rachael's husband, Davis, the President of Apologia, will be speaking as well.
Other speakers include Edric Mendoza (Homeschool advocate and host of ANC's On the Money) and motivational speaker and wealth coach, Chinkee Tan.
The conference will be held at SM Aura Premiere. Talks will be held at the Samsung Hall, while smaller workshops and the homeschool expo of the various learning providers, educational tools, toys, and books will be at the SMX Convention Center.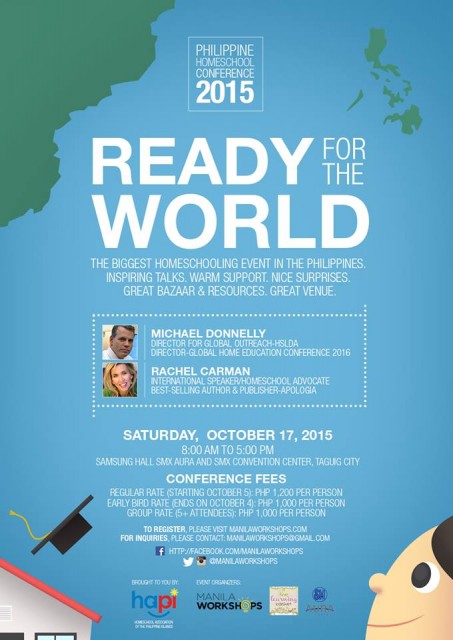 An All Access Pass(for the talks and expo) for the 8am-5pm conference is at Php 1000 per person for the early bird rate. This expo will be open to the public for a minimal amount of Php 50 per head.
The Homeschool Expo will also feature arts and crafts workshops for Php 500/session:
Mandala – 9 – 11am | String Art – 9 – 11am | Cross Stitch – 1230 – 230pm | Dream Catcher – 1230 – 230pm | Basic Calligraphy – 245 – 445pm
The Philippine Homeschool Conference 2015 is brought to you by Homeschool Association of the Philippine Islands (Hapi), ManilaWorkshops and The Learning Basket.