Family-Friendly Parks in Manila
We may be living in a condo in a busy city but we are thankful to have greens and open spaces we can come to.  Gab would bring his ball, ride his bike, blow bubbles or even set up a tent and just spend time on the grass and under the trees reading books in the park.
Here are our favorite kid and family-friendly parks in the Manila.
Legazpi Active Park and Washington Sycip Park
Ofcourse this should be on top of the list. These two are our favorites. Not only they are close to where we live but because of many things to love about these places. The parks are clean and has a well-maintained grass that remains to be luscious green even in the peak summer months.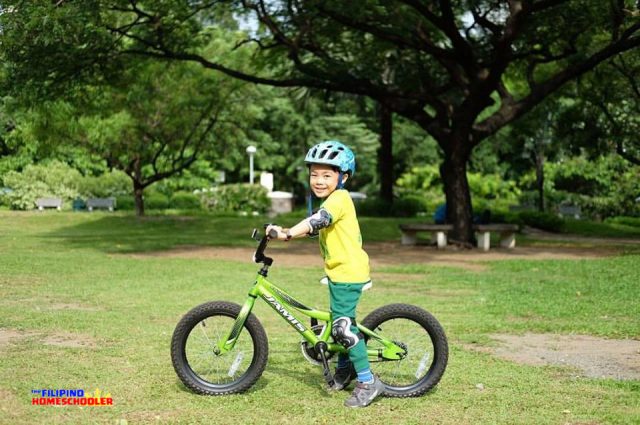 Legazpi Active Park
Legazpi Active Park has mostly grass-covered areas. Good for setting up a mat, for kids to run around or even ride a bike,  play frisbee, badminton or do yoga. It also has a short jogging path inside and a mini playground for the kids.
Washington Sycip Park has a man-made pond that houses koi fishes. It also displays sculptures of Impy Pilapil. In the park, they play relaxing music perfect for those who want to be away from the noise of the busy city. The parks houses different trees which makes the area cool even at noon time. There are a number of stone tablets with short quotations from Washington Sycip himself and the variety of trees are named with their common and scientific names.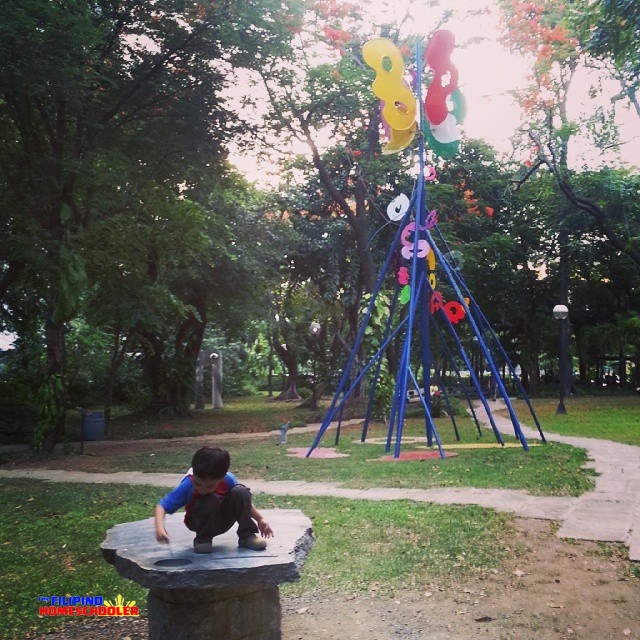 Washington SyCip Park
There is now a newly opened area called the Turtle and Crane garden. It's a Japanese garden located at the far end of the Washington SyCip Park.
On Sundays, there's a Legazpi Sunday Market beside the park. Perfect for getting something to eat and drink after a morning jog or stroll around the area.
Legazpi Active Park and Washington SyCip Park are located in the heart of Makati. Both are located in the corner of Legazpi and Rada Streets. It is near Greenbelt 1 .
Ayala Triangle Gardens
This is our next favorite. It's like a much bigger Legazpi Park with restaurants in the area. These are frequented by runners and office goers in the evening. On weekends, you can see families and and friends gathering together on a picnic, learning and practicing skills – yoga, juggling, even martial arts. This is a busy park with kids on bikes and on skateboards/ scooters. Unlike Legazpi Active Park, park goers are allowed to bring and walk their pets in the gardens.
Ayala Gardens is the green area in the center of Makati Central Business District. It is the home of the Ayala Lights and Sound Show every Christmas season.
Jaime C. Velasquez Park
Also known as Salcedo Park, this park has a much bigger playground than Legazpi Active Park.  It is a hang out of kids and families living in the condominium units in Salcedo Village so the play area is always full of kids. You can walk, jog, run, spot cute dogs and babies. A lot of kids are using this place to ride their bikes.
On Saturdays,  there's a Saturday Market in the area where you can buy good food and organic products.
Salcedo Park is located at Velasquez Street, Salcedo Village in Makati.
BGC Parks: Track 30th, Terra 28th, High Street
While there are many open spaces in BGC, these are on top of the list. First, because these parks are gated and it's not that easy for kids to run off the busy streets in the area.
Terra 28th has a small playground with some slides and swings, though not very well maintained. There are also some areas to play Filipino games like piko, patentero, holen, luksong baka, and habulang taya.  It also has a garden maze.
Track 30th is another option. It has a jogging path, yoga and exercise lawn, fitness art, and a meditation garden with interactive art installations made of recycled materials. It has wide areas where kids can play on the grass. We prefer this over Terra 28th.
BGC now has now added attractions – My Street Pop Up Playground and Bike Lessons  on Sundays at the 9th Ave.
Circuit Grounds
Circuits grounds an a wide open area. The space are often frequented by families, students playing volleyball or soccer or just run around. It is also has a skateboard park. While this has a bigger area compare to the other parks in Makati, a big part of it, the Globe Circuit Events Grounds, is off limits as it is only open when it has events like bazaars, concerts. It is recommended to come to this area late in the afternoon as it does not have plenty of trees for shade.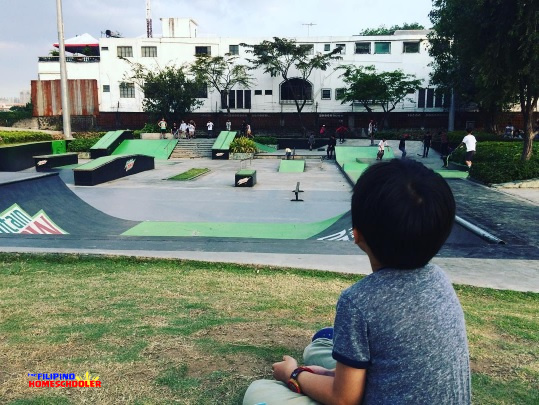 Circuit Makati Skateboard Park
Other Parks outside of Makati worth checking are Rizal Park/ Luneta and UP Diliman Sunken Garden.
Rizal Park or Luneta has many small pocket parks and gardens you can hang out. It also houses the Children's Playground. Luneta has a free Dancing Fountain show late in the afternoon. Rizal Park is located in Roxas Blvd Ermita, Manila.
UP Diliman Sunken Garden is one of the famous landmark of UP Campus. Around is it the 2.2Km Acad oval which is surrounded by acacia trees. The oval is closed for runners and bikers on Sundays. UP Diliman Sunken Garden is located inside UP Diliman in Quezon City.