Adding by 4 Worksheets and Teaching Strategies
Adding by 4 is Week 7 for mastering basic math addition plan for Grade 1.  Like adding by 3, many of the adding by 4 addition facts has been mastered in the previous weeks. Only 3 more addition facts remains to be mastered. Memorizing the remaining 3 maybe faster. But modern approaches encourages kids to think than to memorize, thus, you may want to use the Make a Ten strategy.
Adding by 4 Teaching Strategies
The strategies below are just suggestions. It may work or may not work with your child. I suggest using one strategy at a time.  If the strategy already works, stick to it. Having too many strategies can be confusing also. If your child has developed their own strategy to consistently arrive to the correct answer, use it as well. In fact, that may be the best strategy!
Memorize. There will only be 3 addition facts left to learn for adding by 4. The other 7 addition facts has been mastered in the previous weeks already. The remaining 3 are 4+6, 4+7, 4+8.  You may want to review the strategies for the other 7 that were previously mastered.
Make a 10. This strategy requires more critical thinking. Compared to the other strategies this can be a slow process but there will be long term benefits when the child masters this. Math is a thinking subject after all.  Make a 10 works for many addition facts. In fact, the remaining addition facts in Week 7 and week 8 can be compressed into this single strategy.  Here's a detailed teaching guide for Make a 10 strategy. Personally, I still find this strategy too advanced for Grade 1 but worth trying.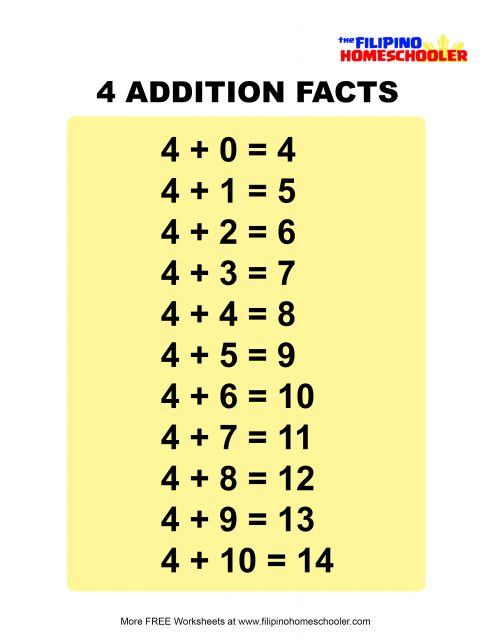 Adding by 4 Worksheets
Use the worksheets below to practice adding by 4.  I recommend having 2 worksheets per day only.
The first four worksheets below are good for 2 days of practice.
The next four worksheets has a line for TIME.  You can use this to time how fast your child can answer the 20 items correctly.  The goal is to be fast and accurate at the same time.  Thus, if the child makes a mistake, 10 seconds is added to the total time.
No need to set a time limit. Just use the time as a comparison with previous worksheets.
These timed tests are optional. You may opt not to take note of the time. Some experts believe that timed tests have a negative impact on kids.  Aim for accuracy over speed.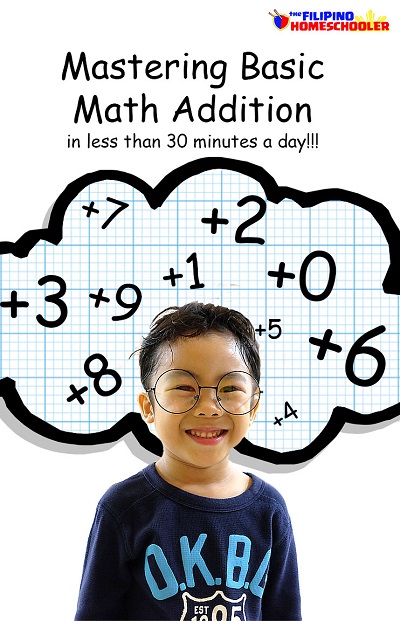 Looking for other FREE addition worksheets for Grade 1, visit our Addition Facts page.